Podcast: Play in new window | Download (130.8MB)
Subscribe: Apple Podcasts | RSS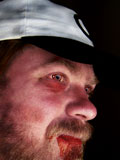 Halloween is almost upon us.  As is the mode of our society, the day has become a celebration of consumer culture, with cheap plastic costumes filling the shelves at your local walmart, children begging for whatever character is at the top of the Nickelodeon pyramid this year.  
But in the same way that many people will tell you that Christmas isn't at all about Santa Claus, I'm here to tell you that Halloween isn't about the Power Rangers.  No matter how many pretty pretty princesses or Marvel superheroes you may see, always remember this.  
Halloween is about the dark.  Halloween is about ghosts and demons and creeping, crawling things.  Halloween is about begging a world you don't understand to let another year go by without killing you.  
HALLOWEEN IS SUPPOSED TO BE SCARY
This is my SUPER SCARY Halloween mix.
I am not doing any song announcing during the mix, just a brief intro at the beginning, so in order to make it easy for you to tell which song is which during the mix, I've put the songs' running times in the track listing.
Intro  (00:00-00:36)
Avenger of Blood – Bloodseeker  (00:36-04:47)
Interlude – The Undead  (04:48-06:08)
Guillotine – Skeleton City  (06:08-10:00)
Watain – Underneath the Cenotaph  (10:02-14:13)
Morbid Angel – Chapel of Ghouls  (14:14-19:09)
Interlude – Ghosts  (19:09-20:20)
Electric Wizard – Funeralopolis  (20:20-29:02)
Sear Bliss – Omen of Doom  (29:02-34:35)
Obtained Enslavement – Witchcraft  (34:35-40:44)
Interlude – Witches  (40:44-41:51)
Denial of God – Curse of the Witch  (41:51-48:43)
Walknut – The Midnightforest of the Runes  (48:45-53:12)
Church of Misery – Killfornia (Ed Kemper)  (53:12-61:25)
Interlude – Slasher  (61:25-62:31)
Skeletonwitch – Sacrifice for the Slaughtergod  (62:31-65:23)
Revocation – Empire of the Obscene  (65:24-70:23)
Belenos – L'ombre Du Chaos  (70:24-76:33)
Interlude – Demons  (76:34-77:38)
Medeia – Devouring  (77:38-80:50)
Raventhrone – The Stargazer (Chastise the Absolute)  (80:50-84:59)