Podcast: Play in new window | Download (75.0MB)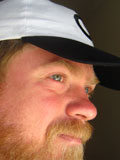 …in which I take you on a sonic adventure through the beginning, end, and aftermath of a trainwreck relationship. No one relationship in particular, I've been married so long I don't remember any others, really. 🙂 But this is a mix that not only progresses through a series of moods but which also purports to tell a story. I hope you enjoy it.
I'll be out of town for the weekend with little or no internet access. Hopefully when I get back I will have a whole bunch of Iron DJ entries to listen to!
ELO – I'm Alive
Pulp – Disco 2000
Matthew Sweet – I've Been Waiting
Stevie Wonder – I Believe
Iggy Pop – Some Weird Sin
Bill Withers – Who Is He And What Is He To You?
…And You Will Know Us By The Trail Of Dead – Relative Ways
Beach Boys – God Only Knows
The Slackers – So This Is The Night
Ben Folds Five – Song For The Dumped
The Police – So Lonely
Aretha Franklin – Don't Play That Song (You Lied)
Unbunny – X
David Bowie – Quicksand
Queen – All Dead, All Dead