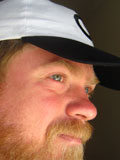 Happy St. Patrick's Day!
Well it isn't St. Patrick's Day yet of course, but it's coming up, today is the Saturday before, and I'll wager many of you are already enjoying the holiday cheer.
I'm more ignorant of my Irish heritage than I'd wish to be, but there isn't anybody left to teach it to me at this point, so I have to content myself with the Americanized version.  And I like it well enough; I've seen Darby O'Gill and the Little People more times than I'd care to admit, I love a good dark ale, I vote early and often and I have a ton of kids.
But one part of that heritage I'd love to explore is the music.  I love the idea of the traditional music session, where talented local musicians gather around their favorite table in the local pub and play sets of traditional reels and jigs.  I also love the modern take on Irish folk music from bands like the Pogues, and even the Irish-influenced punk and metal bands out there.  And yes I probably do like the Pogues too much, what's it to you?  So anyway, I've put together a little mix for all of you, and I hope you'll give it a listen during your St. Patrick's Day festivities and that it'll help you get into the spirit that much more.
Sláinte!
The Pogues – Mountain Dew
The Fenians – Come Out Ye Black & Tans
David Kincaid – Kelly's Irish Brigade
Dropkick Murphys – Worker's Song
Stiff Little Fingers – Tin Soldiers
Flogging Molly – Factory Girls
The Waterboys – And a Bang on the Ear
Various (Music at Matt Molloy's) – Cape Breton Jigs, McGurk's
Various (Music at Matt Molloy's) – Kilkelly
Waylander – Bru Na Boinne
Cruachan – The Very Wild Rover
The Pogues – Medley: The Recruiting Sergeant/The Rocky Road To Dublin/The Galway Races
The Bothy Band – Old Hag You Have Killed Me
Shane Macgowan and the Popes – More Pricks Than Kicks
The Dubliners – Fields Of Athenry
Lúnasa – O'Carolan's Welcome/Rolling In The Barrel
The Pogues – If I Should Fall From Grace With God
Podcast: Play in new window | Download (Duration: 1:07:18 — 89.3MB)
Subscribe: RSS